My kids have been calling me a basketcase and now rightly so. I am Obsessed. Join me in my latest.
I love the feel of fresh new fabric. I also love to do new and creative things with fabric. My newest creation is a shabby chic, pink and lavender roses, fabric basket. It was a lot of work but I really enjoy working with my hands and creating something new.
It takes about a yard or less of fabric. The fabric is cut into strips about 2 inches wide and each strip is coiled around a rope. Then the entire piece is coiled into the shape of a basket. I use a glue gun to adhere the beginning and ends of the fabric to the rope, and also to each coiled row. I twist the handle for an added visual pleasure. This one is 12 inches across. It turns out to be a great size for just about any household use. It even makes those nasty things called bills look oh so pretty, while they wait to be opened!
It is very handy for holding washcloths and hand towels, or on a babies dressing table for all the lotions!
I also make a small one for the vanity or desk which is 5 inches across. these are adorable for holding biz cards or pens. Or for little Baby Hair clips! ( The blue ticking basket is one of the small ones) Theses will be found in my
etsy shop
I love the way these turned out, and they look so pretty holding things in the bathroom or on the vanity.
Made by me!
I now take custom orders for these baskets and you can specify the type of fabric and of course the size.
I am linking up with
Made by you Monday
http://sumossweetstuff.blogspot.com
http://itssoverycheri.com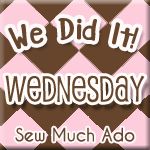 Craft-o-maniac
'Look at Me' Party!!!
If you visit my website,
here
, at
FreshCutfabrics.com
you can pick out your fabric and you can drop me an email as to what you would like. My email is
Info@freshcutfabrics.com